Los Angeles Drain Cleaning & Drain Repair
With TV Plumbing & Sewers, you can rest assured that your Los Angeles drain cleaning, drain repair, and sewer service needs are being handled by a fast and friendly, dependable and reliable, professional.
Los Angeles Drain Cleaning
We are drain cleaning experts! Equipped with the latest technology and modern drain cleaning techniques, we can offer affordable and effective drain cleaning service for you Los Angeles home or business.
With our sewer camera inspection services, we can identify your exact drain or sewer problem. Debris, obstructions, or tree roots- we'll find it and clear it.
Los Angeles Drain Repair
And if we identify a broken or cracked drain pipe? We have a wide selection of professional sewer line and drain pipe repair services to fix any and all of your drain and sewer problems.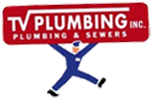 TV Plumbing, Inc.
Los Angeles, CA
CSLB No. 511290
Classification C 36/42
We offer drain cleaning and sewer repair in Los Angeles, California and surrounding areas:
View Larger Map
Athens CA, Crenshaw CA, Gardena CA, Hancock Park CA, Hawthorne CA, Hollywood CA, Hyde Park CA, Inglewood CA, Lennox CA, Terrance CA, View Park CA, Wagner CA, West Vern CA, Westmont CA, Windsor Hills CA, Bel Air CA, Beverly Hills CA, Brentwood CA, Century City CA, Cheviot Hills CA, Culver City CA, Holmby Hills CA, Ladera Heights CA, Mar Vista CA, Mountain Gate CA, Palisades CA, Palms CA, Ranch Park CA, Santa Monica CA, Venice CA, West Hollywood CA, Westwood CA, Westchester CA, El Segundo CA, Ladera Heights CA, Marina Del Rey CA, Playa Del Rey CA, El Segundo CA, Hawthorne CA, Hermosa Beach CA, Lawn Dale CA, Lomita CA, Manhattan CA, Palos Verde Peninsula CA, Ranch Palos Verde CA, Rolling Hills Estates CA, Torrance CA, Al Hambra CA, Altadena CA, Arcadia CA, Bradbury CA, Duarte CA, Monterey Park CA, Montrose CA, Pasadena CA, San Gabriel CA, San Marino CA, Sierra Madre CA, South Pasadena CA, and Encino CA.