Treasure Coast Drain Cleaning & Drain Repair
Cooke's Plumbing & Septic is your drain cleaning and repair expert for Martin, Saint Lucie, and Indian River Counties! Whether you've got a clogged drain, blocked drain, or a slow draining problem - we're here to set it right.
Treasure Coast Area Drain Cleaning
Get to the bottom of your drain cleaning problem with professional, drain cleaning expertise. Before you pour any more harmful chemicals down your drain find out what's really causing the problem!
Grease
Hair
Mineral build-up
Paper
Tree roots
Collapsed pipe
And more!
We have the knowledge, tools, and expertise to identify and clear your drain problem - remove the guess work and call Cooke's Plumbing & Septic today!
Treasure Coast Area Drain Repair
Sometimes a slow draining shower, bathtub, or other clogged drain can be a sign of something worse - such as a collapsed pipe.
Cooke's Plumbing & Septic offers fast, friendly, immediate response, and, as a full-service plumber, can evaluate and fix all of your drain problems. If you've got a broken or cracked pipe we have pipe replacement services to get your drains flowing again.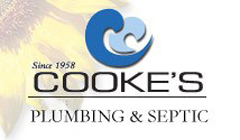 Cooke's Plumbing & Septic Services
3100 SE Waaler St.
Stuart, FL 34997
We offer drain cleaning and repair in Martin County, Saint Lucie County, Indian River County and surrounding areas:
Stuart FL, Jupiter Island FL, Ocean Breeze FL, Sewall's Point FL, Fort Pierce FL, Port St. Lucie FL, St. Lucie Village FL, Fellsmere FL, Sebastian FL, Vero Beach FL, Indian River Shores FL, Orchid FL, and surrounding communities.